How to access the Cave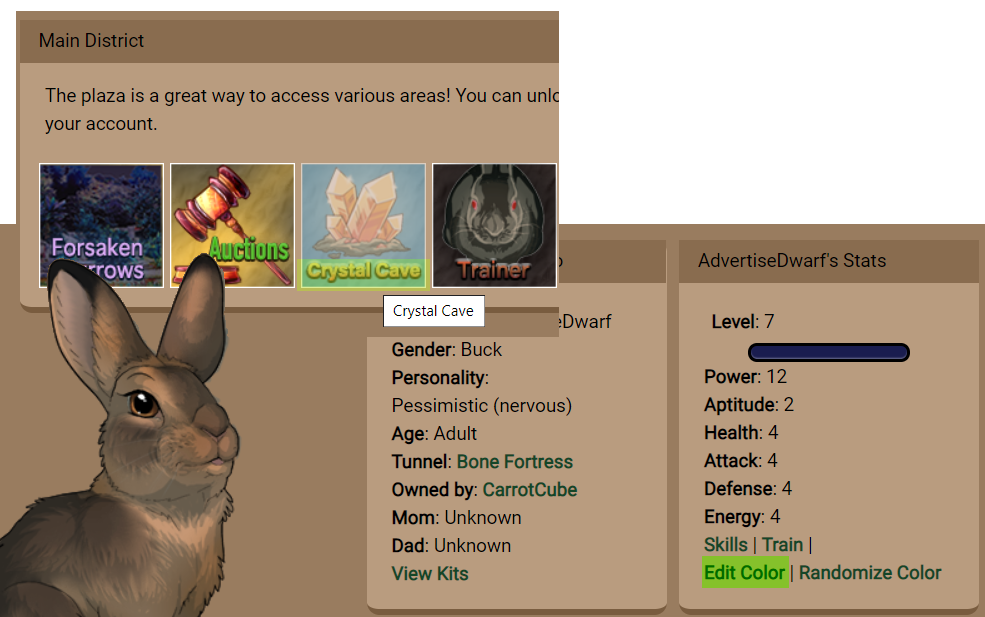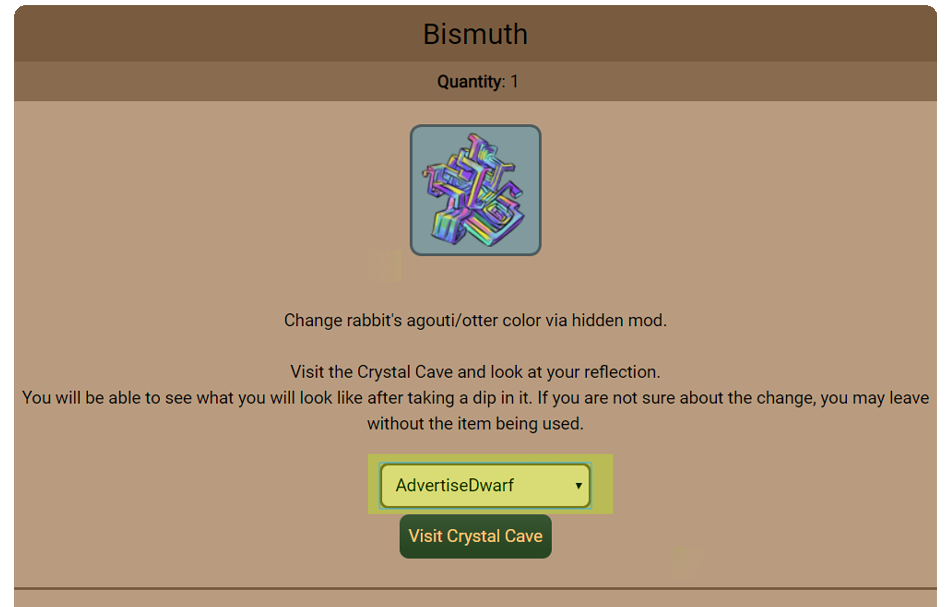 The Crystal Cave can be accesed via the Rabbit Plaza, Rabbit Profiles or the Inventory.
The Crystal Cave is unlocked on the plaza's main district by default, you do not need to be of a certain level to access it.
On Rabbit Profiles, it is under the stat box, on the "Edit Color" link. The "Randomize Color" Link will lead you to a preview of a Golden Snowflake and we are not going to be using it in this guide.
You can access the crystal cave with any rabbit, even if you don't own them. This is helpful to visualize possible changes to a rabbit you may be wanting to purchase.
There is also a third way of accessing the crystal cave, wich is pretty similar to just access it via the rabbit profile.
If you use a Rabbit Image Changing item, you have the option to choose a rabbit to visualize in the crystal cave.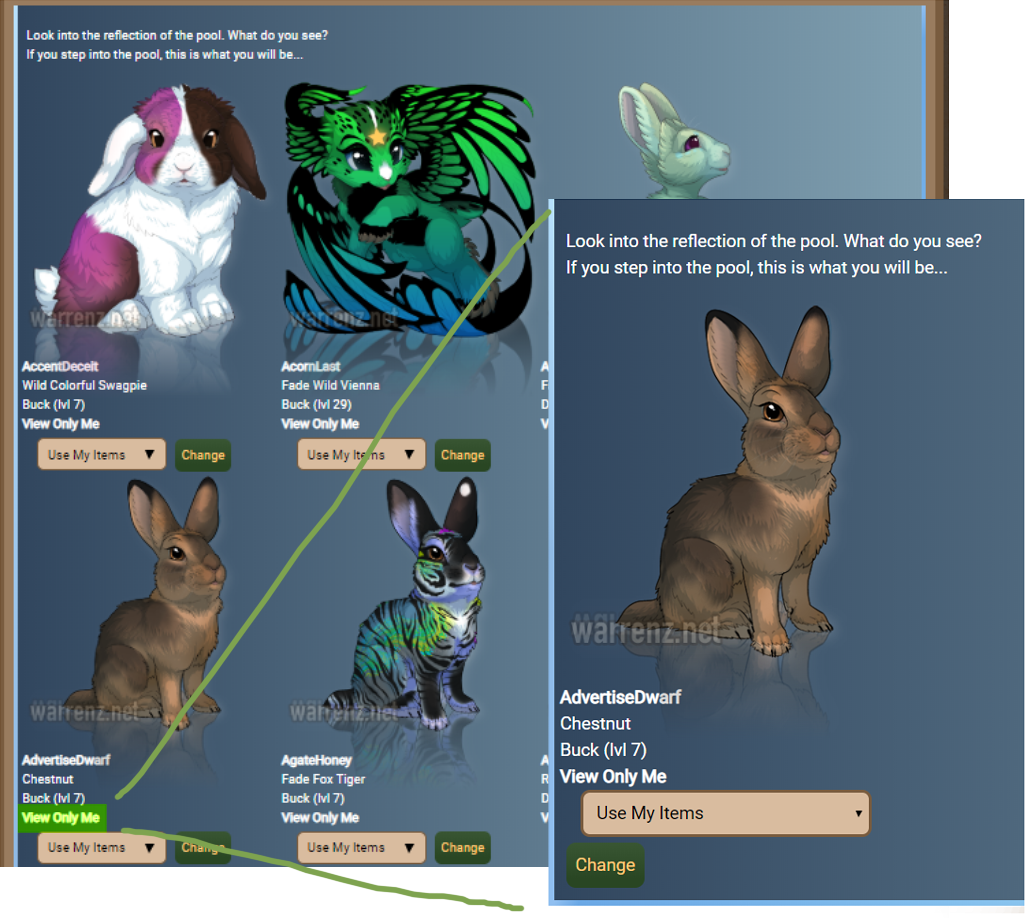 Depending on how you access the cave, you will see it differently. It may be confusing at first.
When you access it from the Plaza, you will see all your rabbits, but when you access it from a rabbit profile or the inventory, you will see that exact rabbit. The only difference between the rabbit profile and the inventory, is that the inventory item will be already previewd when you access the cave.
To view a specific rabbit in the cave, all you need to do is click on "View only me" under the desired rabbit.
The general view of all your rabbits is very useful to help you visualize a specific item or set of items applied to all rabbits. For example, when a new pose comes out.
The General View of all your rabbits will not allow you to preview individual markings or edit them in any way. To do that, you need to view the rabbit you are changing.
When viewing all your rabbits, the following can be applied to all of them at the same time for previewing and changing:
Pose, Genes, Chimeric Genes, Cores and Chimerism while viewing single rabbits allows you to change, add, edit and remove individual markings on top of the general view changes.

How to visualize changes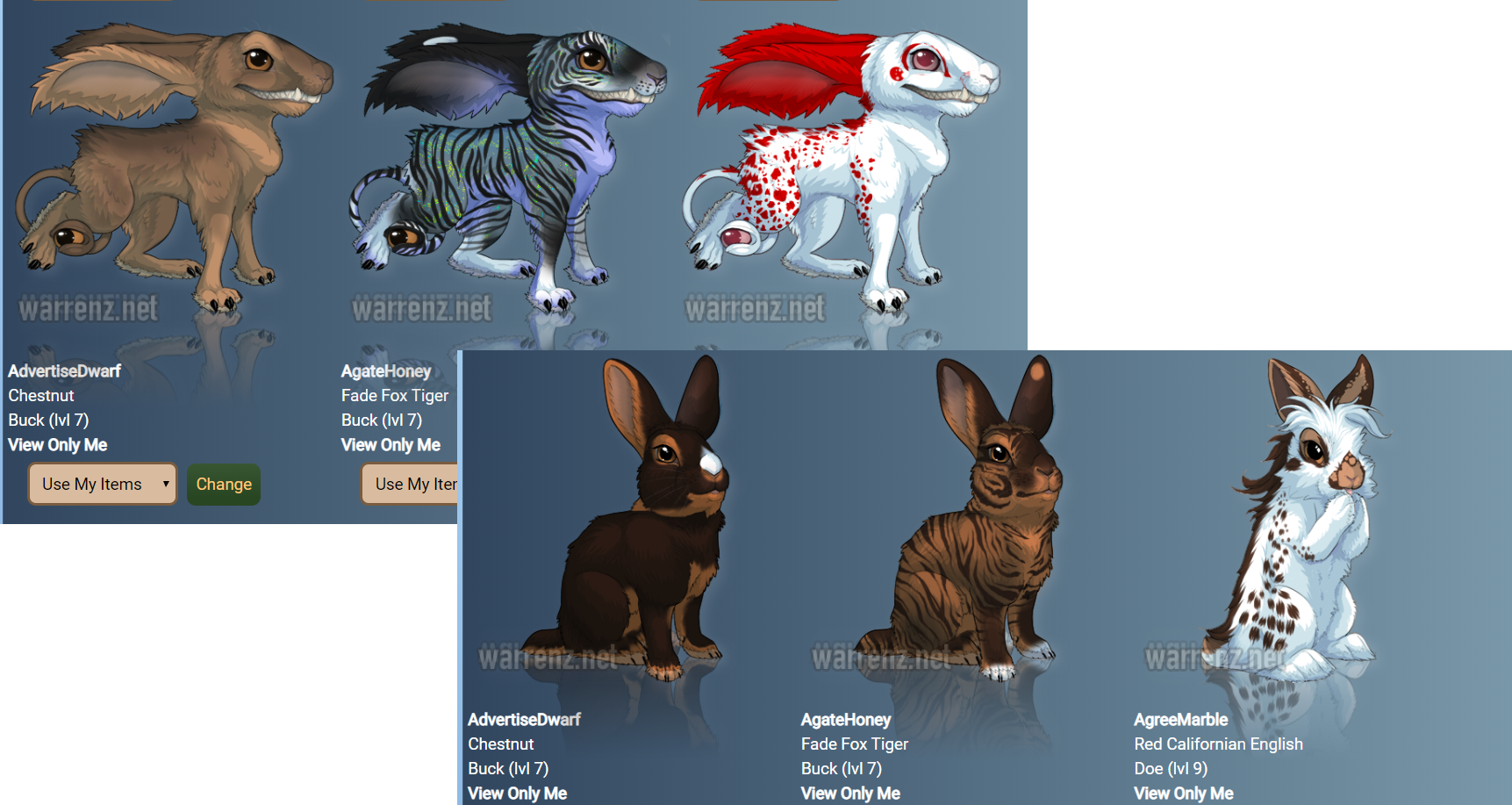 The Crystal Cave will allow you to see how all your rabbits will be affected by an item or several items together.
All your rabbits will be previewed with the selected changes and you will be able to change them on the spot with the "Use my items" options in the dropbox menu, if you have the items required, wich are the items you selected on the preview panel.
On the dropbox menu there is also an option to change the rabbit using credits, the premium currency of Warrenz. This is a "last resort" option as using items is the "intended" way of changing a rabbit's appearance, but you can always use your credits to do so.
As mentioned adobe, the "View only me" link will lead you to a more in-depth customization view of that said rabbit.
---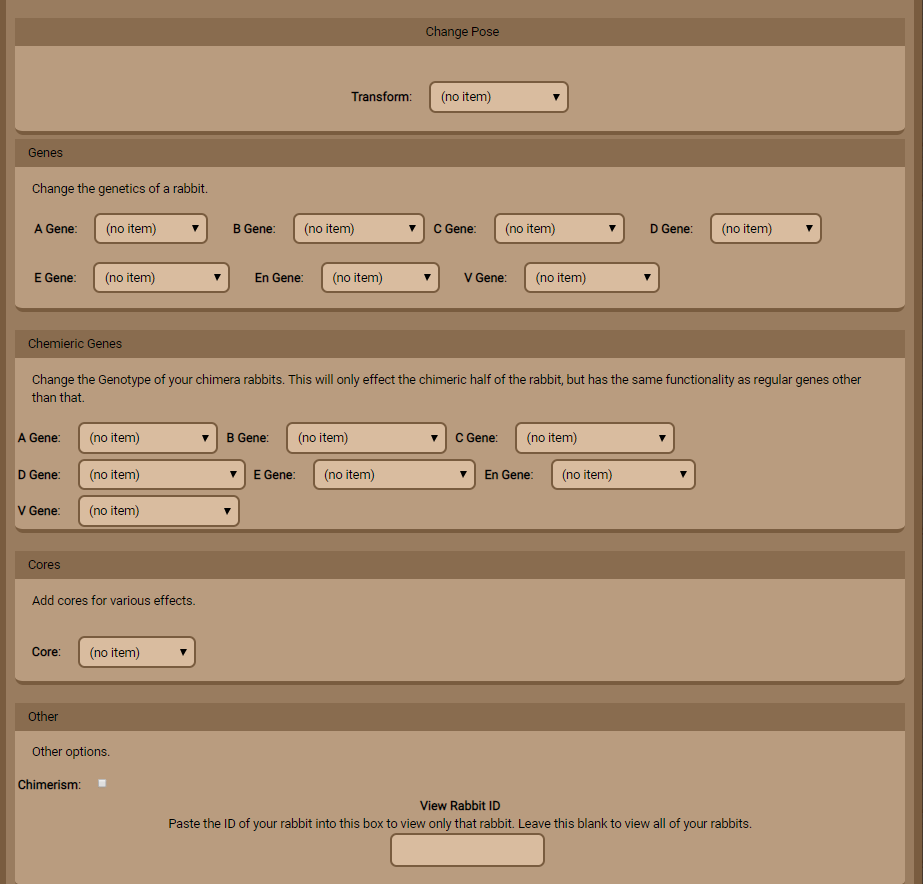 To start seeing and previewing your rabbits, all you have to do is scroll down past your rabbit images. There, you'll find several panels.

The Pose panel allows you to choose a specific pose to use when previewing your rabbits. All poses are avaiable to be previewd, event bases and normal bases. If no pose is selected, they will keep their original pose.

The Genes panel allows you to choose new genes for your rabbits. For a better and extensive explanation about genetics, the Genetics Guide has you covered.

The Chimeric Genes panel allows you to choose new chimeric genes for your rabbits. These are changed by using "Split DNA" instead of the normal DNA. They work exactly like normal DNA, except it only affects the chimera side.

The Flasks panel allows you to choose what flasks to preview. Currently, only Fullcolor and Fade Flasks can be previewd, as these mess with Hidden Modifiers, rather than markings.

The Other panel allows you to preview chimerism on your rabbits. By default, the chimera side is completely black.

Once you are ready, clicking on the "Preview Reflections" button will allow you to see what effects the selected items will have on your rabbits.
"Clear everything" will revert all changes made.